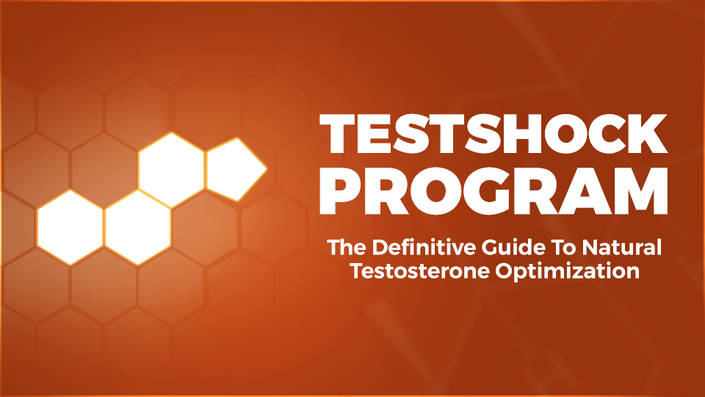 The TestShock Program
The Complete Step-By-Step Natural Testosterone Enhancement Protocol Using Nutrition, Training, Lifestyle, and Intelligent Supplementation Strategies
The Only Complete Testosterone-Enhancement Protocol That Allows You To Eat All Your Favorite Foods And Systematically Increases Your T-Levels Through The Roof...
Quickly, Safely, & Naturally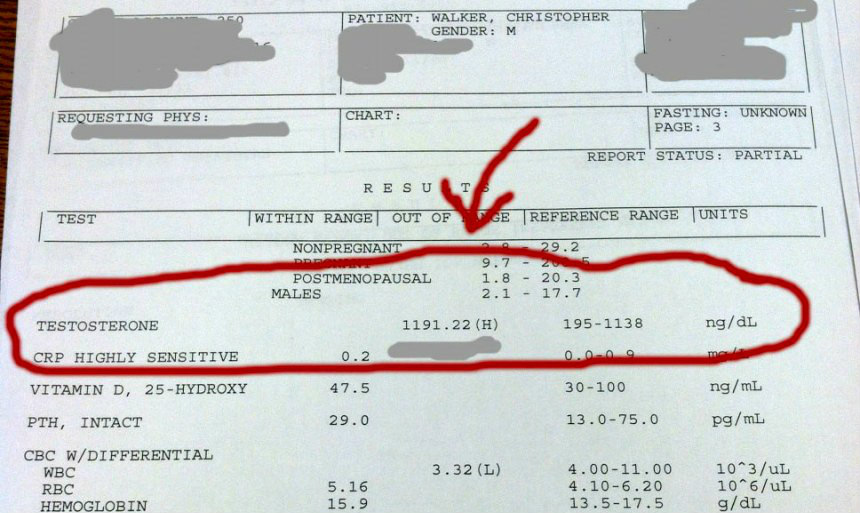 This radically simple yet effective Testosterone-Optimization System will work for you, EVEN IF you are:
Overweight or obese
Have varicoceles
Have a pituitary tumor
A skinny guy looking to build muscle
Have almost zero total or free T
Have high estrogen levels
Have thyroid issues
Are diabetic or have blood sugar issues
Are getting off of steroid cycles
Enjoy eating out almost daily
On a tight food budget & can't afford to buy only organic food

...And even if you believe you've seen and tried everything!
But before I tell you what The TestShock Program is, I need to tell you what it ISN'T - that way there are NO "False Expectations"...
The TestShock Program is NOT yet another fad diet, it is not ANYTHING like your run-of-the-mill Men's Health BS Testosterone advice...
And it's NOT a program for those guys who never take any action...
Listen: You've been lied to enough!
It's time to put away the "boosting" gimmicks and start using the real deal - fair?
This is definitely NOT some "Take this magic pill" solution that promises ridiculous results with no work.
Rather...
The TestShock Program is the direct result of nearly a decade of study, and YEARS of digging through the trenches to find what REALLY works...
As well as examining the REAL reasons behind testosterone "failures", so I could create a clever way to you to avoid these negative patterns...
And, from this moment forward...You will have the tools to replicate the success of the thousands of other guys who've been through this exact protocol over the years...
These "step-by-step" strategies and the "avoid THIS" lessons are now YOURS to replicate... and that means:
Reaping the benefits of adding pounds of lean muscle tissue to your physique this year
Boosting beard growth rate and even stimulating new growth
Having an amazing sex life once again
Staying lean year-round (despite eating more satisfying meals than ever)
Improving your core confidence and natural masculinity
You'll finally achieve the IDEAL Testosterone Level quicker and far easier than you've ever dreamed possible...

I've gotta be totally honest with you, so there's nothing left to chance:

If you're looking for yet another "Magic Pill Solution"... More garbage that doesn't work, never has worked, and never WILL work for you... Then you need to leave this page right now!

The TestShock Program isn't some pie-in-the-sky fantasy land nonsense - it's the real deal, and it's only for folks like you who are really serious about optimizing their T levels naturally & FAST...

There are no press-a-button answers to succeeding in getting those sky-high T levels...

Here's what you can expect The TestShock Program to deliver:
The FIRST thing I tell all of my high level private clients to get their endocrine system kicked into high gear… PLUS you'll get a sneak peek of behind the scenes of my own personal journey. A journey that took my testosterone levels from an abysmal 11 ng/dL to nearly 1200 ng/dL - 100% naturally (hint: it flies in the face of conventional wisdom). Pg 9.
How this one little-known "positive feedback loop" can get your testosterone production cranking into high gear, and how to constantly feed the loop to enhance brain and endocrine function to superhuman levels. Pg. 39
How your ignorance of this one hormone is KILLING your testosterone production. It's sneaky, and you may not even know it exists. But it is wreaking havoc on your T levels. Learn how it works, and how to put a stop to it now. Pg. 42
How to quickly lower the one hormone that inhibits protein synthesis, killing all of your muscle gains. Learn how to manipulate this hormone and muscle gain will become effortless. Pg. 44
How to quickly decrease your body fat levels to rapidly spike your testosterone production and reveal all that hard-earned muscle mass you've been building in the gym for years, but has been hiding underneath a layer of puffy fat. Pg. 50
How to eat less often and BIGGER, more filling and 'manly' meals to lose body fat, increase your T, and kick your muscle gain into high gear. Pg. 61
Learn which type of fat you NEED to avoid. You must never eat this fat or your endocrine system will quickly fall out of balance and your T production will screech to a halt. Pg. 76
How to train your body if you're an endurance athlete, triathlete, runner, cyclist, or swimmer to optimize your sessions for the best testosterone output possible. Don't miss this checklist or risk destroying your hormones in the process. Pg. 111
How to train the connections between your muscles and your nervous system to maximize testosterone and growth hormone production before, during, and after your training sessions. And learn how often you need to train (and don't train more) if you want to increase your T levels quickly. Pg. 100
How to fall asleep faster, sleep deeper, and optimize your hormone levels all night with these 14 quick and extremely useful tips and "hacks." Pg. 141
And SO MANY more incredible tips... (Far too many to list here!)

The TestShock Program isn't just a solution for you... It's the ONLY solution for you!
Frequently Asked Questions
When does the course start and finish?
The course starts now and never ends! It is a completely self-paced online course - you decide when you start and when you finish.
How long do I have access to the course?
How does lifetime access sound? After enrolling, you have unlimited access to this course for as long as you like - across any and all devices you own.
What if I am unhappy with the course?
We would never want you to be unhappy! If you are unsatisfied with your purchase, contact us in the first 30 days and we will give you a full refund. In order to protect ourselves from abuse we reserve the right to refuse refunds to people that we deem to be 'serial refunders'. Those include people that have received one or more refunds in the past. And people who refund multiple courses at once. If you have received a refund in the past you are not eligible for refunds on future courses without express, written permission from AnabolicMen LLC.
Your Instructor

Christopher Walker is the an independent testosterone optimization researcher. Author of multiple men's health protocols, Christopher was also the first individual to graduate from Duke University's neuroscience program in 3 years, and has an extensive and intense interest and experience in neuroscience and human endocrinology.